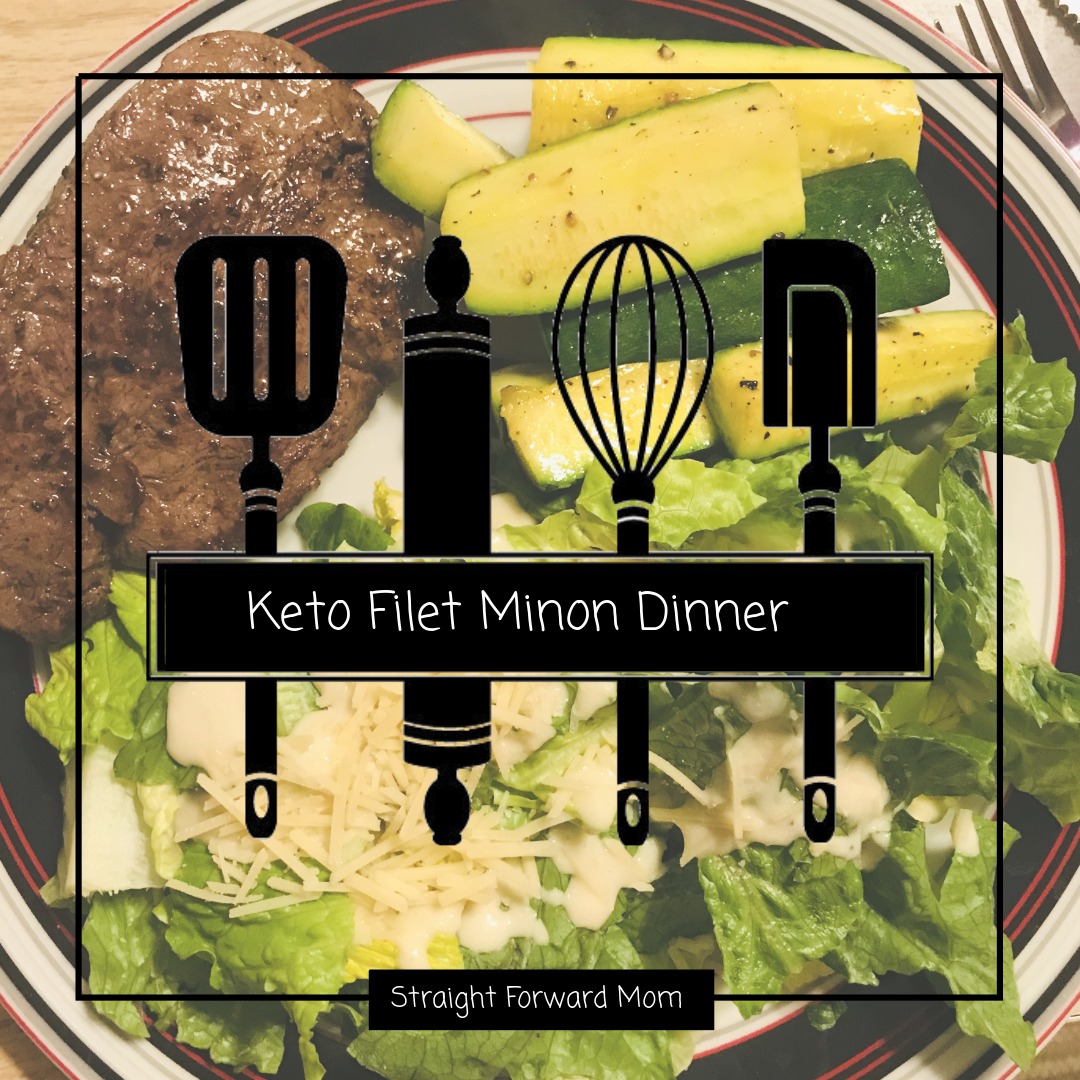 Filet Minon Keto Steak Dinner
This filet minion steak dinner is one of my favorite meals to eat! The steak is so good and melts in your mouth, if you can cook it right! I like to just use my stovetop to cook this, because it keeps it nice and simple.
I just toss it on my hot and buttered skillet, flip once! Add extra butter as you go to keep the meat nice and juicy. Depending on the thickness of the cut, about an inch or so thick I usually cook 15 min on each side.
Shopping List for your Steak Dinner
We typically do a lot of our shopping at Costco. I like to buy my steaks 🥩 there because the quality of the meat is always spot on! Plus I can buy a 4 pack and use it for 2 steak dinners, for my husband and I.
Because I do this, we usually end up eating steak about once a week. This makes it nice since we are trying our very best to eat low carb! Having these awesome low carb and keto dinners makes it so much easier to stay on track. Plus, this way of eating makes it SUPER simplified, because you basically just have, 2 or 3 food groups to make, and it doesn't over complicate your meals. Because once you start adding all your sides, bread, and potatoes, your meal just went from simple to complex.
This meal can stay super simplified with just your meat and vegetables, or you can fluff it up with a salad, or my cheesy garlic bread recipe. I just use my stovetop to cook this meal, and it turns out great! No need to get all fancy with the BBQ for this one! Unless, of course you want to!
Amazon Fresh is so easy and convenient! Save yourself some valuable time. Eat fresh, whole ingredients, that ships right to your door! We have it made!
You have to try the FREE Trial! Trust me!
Filet Minon Steak Dinner
Melt in your mouth medium rare steak! Tastes so great and is low carb!
Ingredients
2

Filet Minon Steaks

1/4

Cup

Butter

2

Zucchini

Salt

Pepper

1

TBSP

Worcestershire Sauce
Instructions
Marinate meat the night before or the morning of the meal. Place the meat in a pan with Worcestershire sauce, salt, and pepper. Cover and refrigerate. An hour before cooking remove meat pan from fridge, and place on counter to get to room temp before cooking.

When ready to cook, heat a non-stick pan over medium heat on the stovetop and add your butter. Once butter is melted add steak.

Set a timer for 15 minutes, add some butter to pan in steady intervals to keep the meat nice and juicy.

While meat is cooking, wash and cut zucchini. Place in a separate pan, on the stovetop on medium heat. Add butter, salt, pepper, and zucchini to pan. Cook about 15 min and rotate zucchini regularly.

After 15 min, rotate and flip steaks. Keep rotating zucchini as well. When flipping steaks add butter to the top and let it melt into the meat. After another 10 min or so depending on how rare you like your meat, it will be done. You can always cut into a piece to check.

Total cooking time should be about 30 minutes, from start to finish for a medium rare thick cut piece of meat. Adjust your time accordingly, depending on how you like your steak cooked.

Turn off heat and get plate ready with vegetables, and any other sides you may have made. Then add the meat to your plate and enjoy!
Check out some other great recipes!
I absolutely love Amazon Prime for all of my shopping, it's so easy and free delivery is the best! Especially with the amount of shopping I do! So many great perks!
>Instantly watch thousands of movies and TV episodes
> Borrow Kindle books
>Get unlimited FREE two-day shipping (no minimum order size)
Start Your FREE Trial!