Hot Wheels Toddler Activity [Great when you need a break]
Feeling Exhausted or Unwell? Here's what toddler activity I used!
I was having one of those weeks! You know the kind that never ends, the kind you can't get any sleep because you have a teething baby and a toddler with a stomach virus. So I really needed this hot wheels toddler activity to entertain my son.
This was me last week. My son was bitten by the stomach bug and was having diarrhea. He wasn't sleeping well because of it, so he was up throughout the night frequently!
Then, my daughter was teething on top of it! She was also up at night! Between the two of them, this mama was getting an hour of sleep here and an hour there.
I was so exhausted by the time the morning came around, that I was like okay mama needs a nap!! I thought to myself..how am I going to get through the day. Now, I don't have the luxury to call up any grandparents or other family for assistance.
So…
I needed to find a great toddler activity for my son, that would keep him entertained. He already watched about an hour of his simple songs on YouTube. So now what?
Simple songs is so great for my toddler. He has increased his vocabulary from listening and watching these songs! I can ask him what any farm animal says and he knows! It's so adorable and he loves to say E-I-E-I-O. He can also identify his body parts too and much more!
Baby Shark & more kids songs- Super Simple Songs
Toddler Activity in Mommy's Bed
We set up a Hot Wheels Track in bed!!
This was AMAZING!! He was so excited to play in mama's bed with his hot wheels! One, it was something we hadn't done before and two, it was in my bed! Both of these things combined made it so fun for him!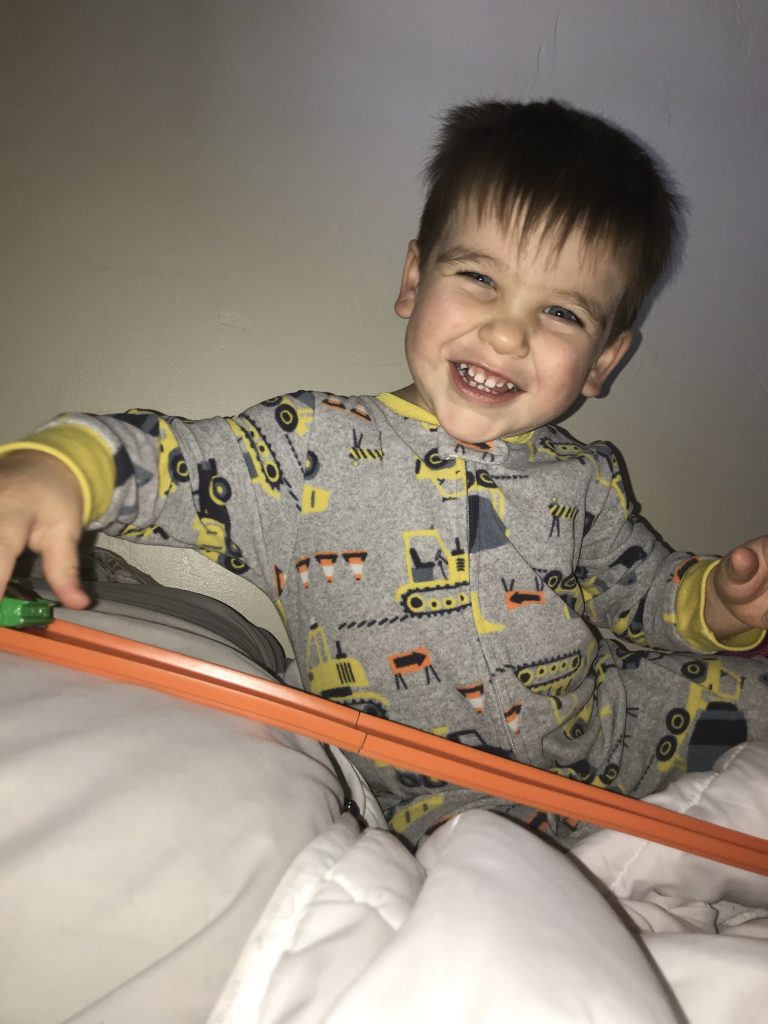 Here's what I did..
The pillows make a perfect downhill slope or ramp. So I put together a few of the straight track pieces and lined them up on top of the pillow. Then he did the rest! He put his cars on the track and watched them slide on down.
He thought this was the best thing ever! He repeatedly slid his cars over and over and watched them as they went down the track. My son loved it!
He would move back and forth and slide the cars down over and over again. When he got tired of that he moved the track himself and used the cars on different parts of the track.
This hot wheels toddler activity was great entertainment for him! He played with this for about an hour!
I love teaching my kids, but I also love to teach myself new things too! As a busy mom it's hard to find the time. I love to use Audible to listen to books while I rock multitasking! It's truly a life changer.
Give it a TRY! Great for gifts & kids learning too!
Much needed break
I was able to lay down on the other side of the bed and just watch him play. I would interact when he needed me to, but otherwise I was relaxing!
Soo..
Due to our living situation, our bed is well..just on the floor in the kids playroom. So, I wasn't worried about him falling off the bed or anything like that.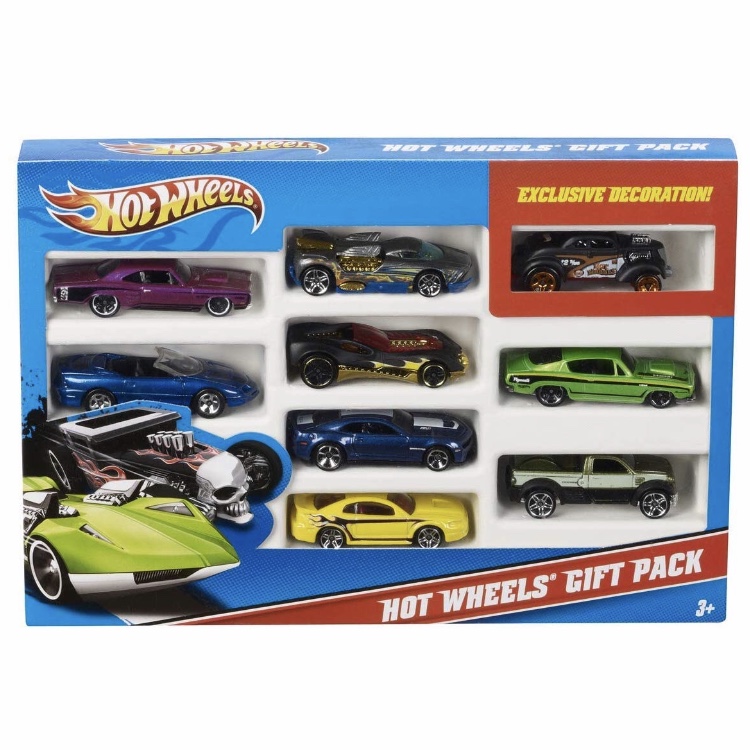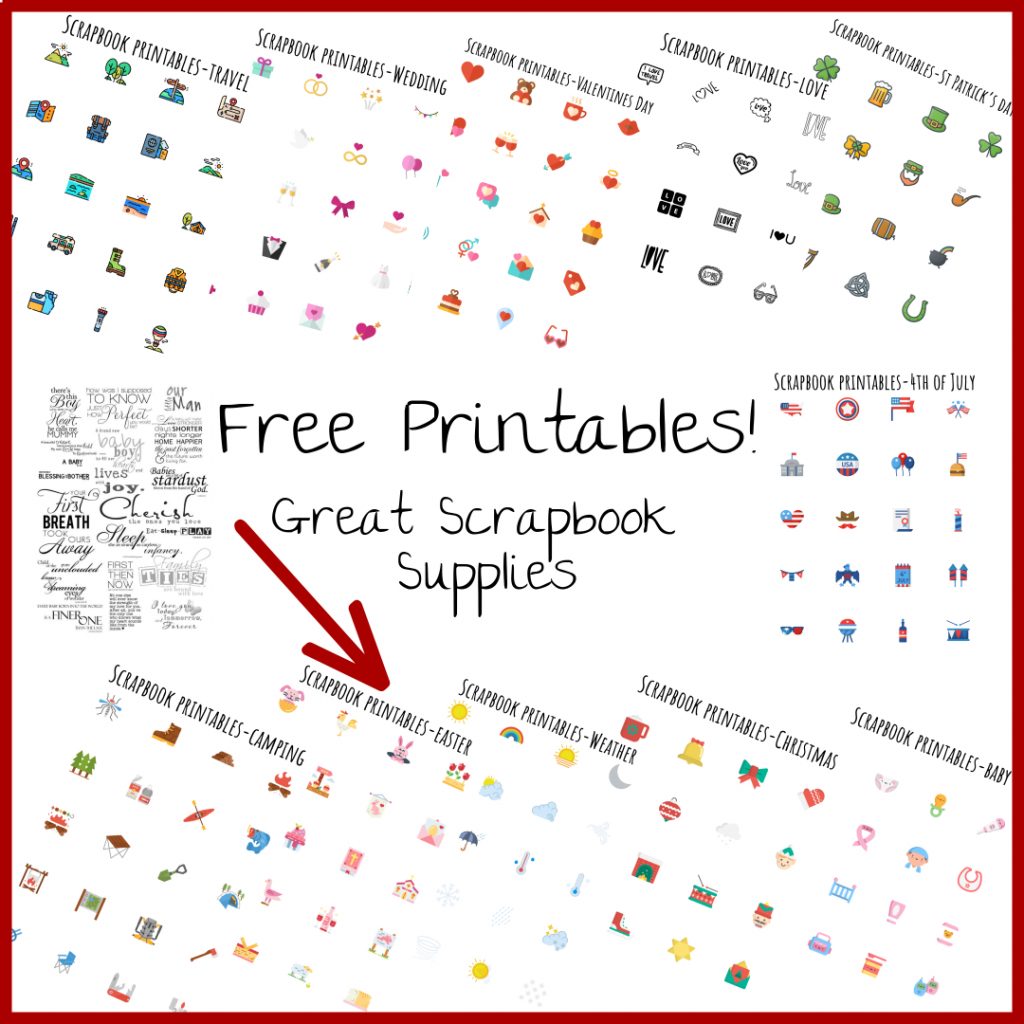 Hot Wheels
These hot wheel cars are such a great toy! My son loves to play with them. We would talk about what kind of car it is (thank goodness their labeled 😉) and we talked about what colors they are. I will ask him to hand me the red one.
These cars are not only just toys, but can be used as a learning tool. I always try to sneak in learning with everything my son does! It works great and these awesome hot wheels are no exception! It's often hard to try and sneak in some learning activities. I have compiled a list of some great Toddler Learning Activity Must Haves.
Now, you can also buy these fun tracks for the hot wheels to go on! It's so convenient and they are sized perfectly! He can use the hot wheel tracks for most of his other toy cars as well.
I highly recommend getting some for your kiddos! My son loves to play and learn from his hot wheels! He will be able to keep them as long as he wants too! I even have some hot wheels leftover from when I was a kid. They make great keepsakes to pass down!
Check out some Hot Wheels Here!
Hot Wheels 50 Basic Car Gift Set
Hot Wheels Criss Cross Track Set
Hot Wheels Track Builder Loop Set
Hot Wheels Straight Track Builder 15ft
Hot Wheels Mega Hauler Storage Truck
I absolutely love Amazon Prime for all of my shopping, it's so easy and free delivery is the best! Especially with the amount of shopping I do! So many great perks!
>Instantly watch thousands of movies and TV episodes
> Borrow Kindle books
>Get unlimited FREE two-day shipping (no minimum order size)
Start Your FREE Trial!