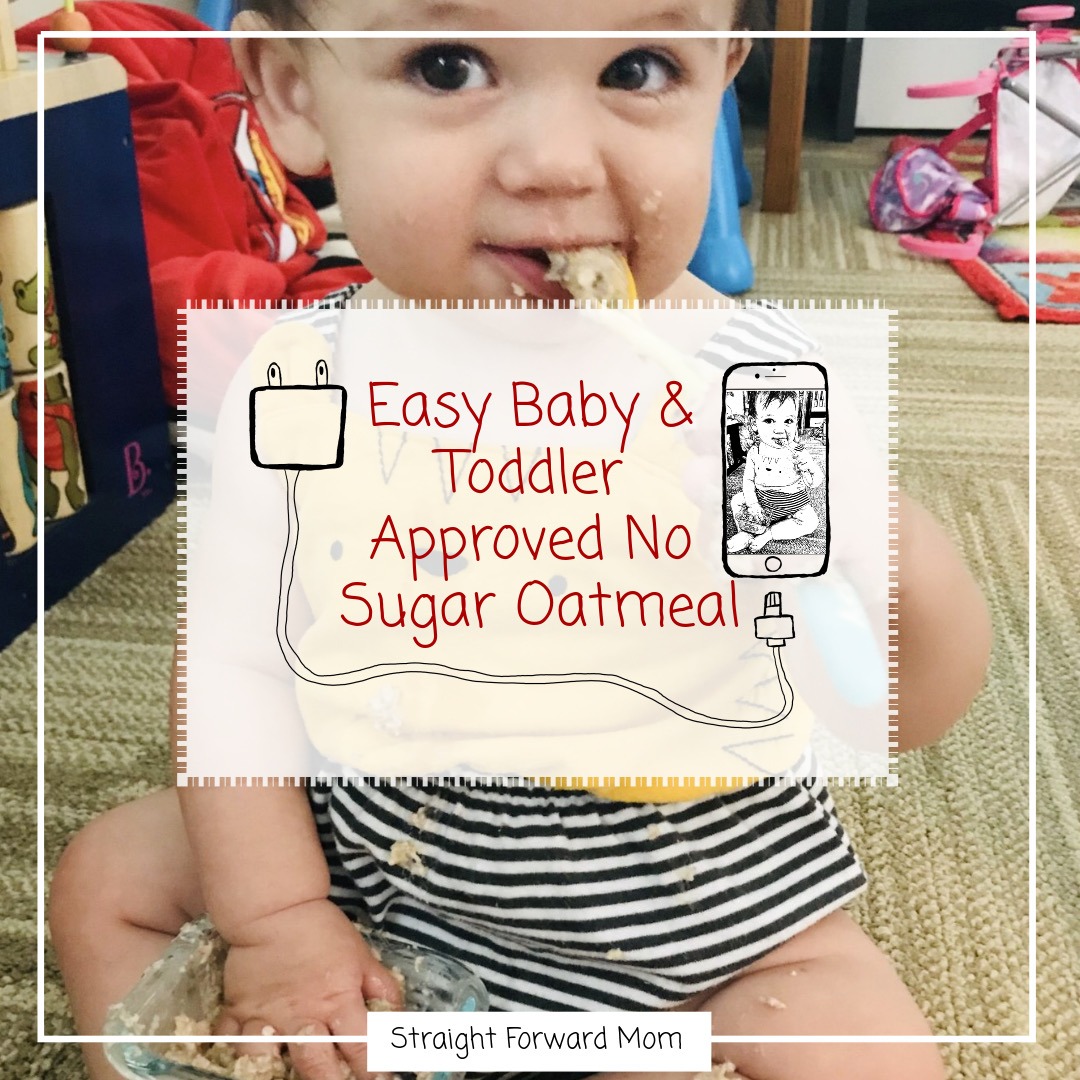 No Sugar Oatmeal Recipe [Great for Kid's]
I sure love a nice warm and gooey bowl of fresh oatmeal. There is an endless possibility of mix-ins that will give your flavor palate a run for its money. But let's be real.
Often oatmeal by itself is super bland and boring. We need to resort to adding sugar to it for it to be delicious! Well, I have cracked the code on making delicious melt in your mouth oatmeal without the sugar! This sugar free oatmeal recipe is a must try. I love feeding it to my kids and I can feel good about it too.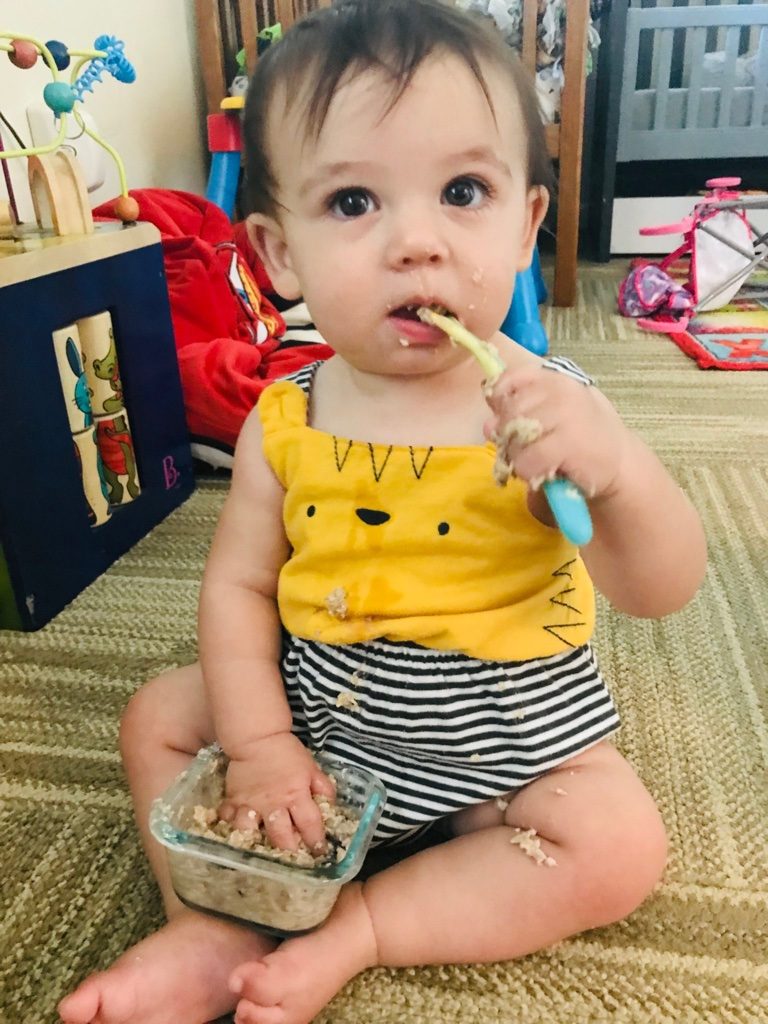 No Sugar Oatmeal Recipe Necessities
Grocery shopping as a mom is a strenuous task. There are so many decisions to make. Not only do you have the stress of planning and laying out each meal for yourself, but now you have to plan for your kids.
I have created a pre-made shopping, grocery list, and weekly dinner menu. You can find it on my blog here. with this planned menu, it can be tough to stick to. The grocery store offers many temptations.
This makes it really tough to stay focused on your list and only buy what you need. I tend to fall victim to the snack isle. The bright colors and tasty snacks attract my attention. I remind myself, that it is a marketing ploy to get me to buy. It is tough these days to feel confident about buying food for your kids because of the amount of added sugar in everything adds up fast.
Amazon Fresh is so easy and convenient! Save yourself some valuable time. Eat fresh, whole ingredients, that ships right to your door! We have it made!
You have to try the FREE Trial! Trust me!
The Sugar Dilemma
Take a basic Quaker oatmeal package, for example. The plain bran oatmeal has 1g for 1/2 cup of oats. That doesn't include the maple syrup, brown sugar, and milk that you may add to make it palatable. If you take the already added flavors such as apples and cinnamon, maple and brown sugar, or strawberries and cream. You are looking at 9-12grams of sugar.
Well, that doesn't seem like a lot. But then take into account all the other sugar packed foods that your kids might eat in a day. Fruit smoothie for breakfast, or maybe a waffle, bagel, or cereal. Then, some juice with a peanut butter and jelly for lunch. Depending on the day, maybe a popsicle, some fruit snacks, or a graham cracker. Then milk with dinner. It will all add up quickly.
How Sugar Affects Us
We don't always think about the impact of food and how it affects all aspects of our lives. Sugar is a very addictive substance. I have a hard time trying to stay away from it. I have really noticed the inflammatory effects that is has on my skin. When I splurge on my sugar intake, I will notice lots of acne breakouts.
This just being one of the poor side effects of sugar consumption. This list goes on and on. We are just not equipped to handle the amount of sugar that is added into a lot of foods. Our bodies become overwhelmed and can't process all of it. Therefore, I try to cut out sugar everywhere I can.
We are at risk for weight gain, mood spikes, and inflammation that ingesting high amounts of sugar does. So, I came up with this sugar free oatmeal recipe that I can feel good about eating and giving to my kids. They love this recipe and my 9-month-old daughter eats this almost every day.
I absolutely love Amazon Prime for all of my shopping, it's so easy and free delivery is the best! Especially with the amount of shopping I do! So many great perks!
>Instantly watch thousands of movies and TV episodes
> Borrow Kindle books
>Get unlimited FREE two-day shipping (no minimum order size)
Start Your FREE Trial!
The Benefits of No Sugar Oatmeal
Now that I have removed the added sugar from the oatmeal, I can feel great about all the beneficial properties that oats offer my kids. There are many health benefits to oatmeal consumption. From boosting immunity to giving aid to a healthy digestive system. Check with your pediatrician to make sure your baby is ready to eat oatmeal.
When transitioning your baby to solid foods, constipation may pose a subtle threat from replacing the liquid with solids. Oats will ease this problem as it has soluble fiber and keeps your baby's digestive system working well. Feeding oats will also help prevent gluten allergies.
Oats also have a surprising amount of nutritional value. It contains calcium and phosphorous which help in strengthening your baby's bones, nails, teeth, etc. Oats are also good at providing iron for haemoglobin, potassium, and sodium to the brain, muscles, and spinal cord.
I love that the fiber in the oatmeal also helps keep my daughter feel full longer. This makes for a great pre-bedtime meal as it helps her sleep longer during the night. When you feed oats regularly, it will help to boost the immunity of your baby. So, that is a bonus! I love this sugar free oatmeal recipe and my kids do too.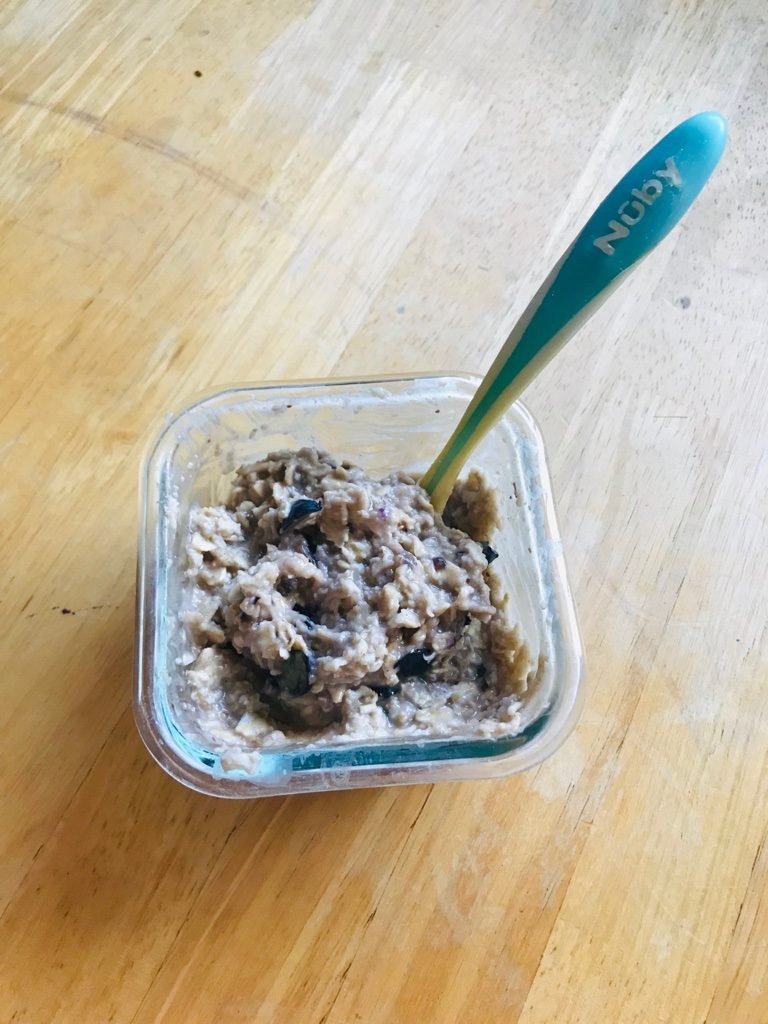 The No Sugar Oatmeal Recipe
This sugar free oatmeal recipe is so easy and convenient to make. I have a water cooler that has a hot water option. It's the perfect temperature for making hot chocolate, oatmeal, tea, etc. Having a nice cold or perfectly tempered, warm water at the touch of a button is a real game changer. I recommend you get one! You can find one on Amazon here! [https://amzn.to/2yG3AqS]
For this recipe, I used only 1/3 cup of oatmeal because it is the perfect amount for my 9-month-old. But you basically just want to add your water until it starts to barely cover the top of your oats. Then stir and add more water if it's too thick. You can also add in some probiotics for that extra boost!
Prep time: 2 minutes
Cook time: 5 minutes to sit
Serving: 1
Ingredients:
1/3 cup old-fashioned quaker oats
2 TBSP hot water
dash of cinnamon
1/2 tsp lakanto monkfruit maple syrup
Optional chopped fruit of choice
Instructions:
In a glass bowl combine oats and warm water, stir until cooked. Oats will thicken and expand. Then add a dash of cinnamon and maple syrup. Stir well and enjoy! You can add fruit too.
Pin Me!