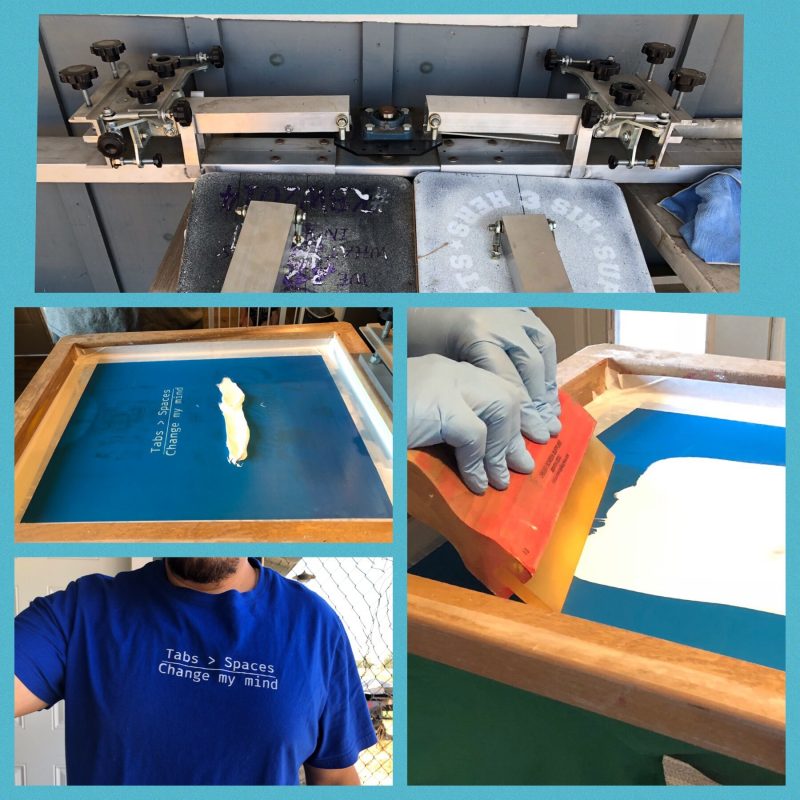 Screen Printing Passion Project
This is a little screen printing passion project my husband has and I reluctantly have been sucked into! Go figure!
So one day, we decided to buy a screen press and we self taught ourselves how to make our own shirts by using screen printing! We have a pretty small one bedroom place and still make this work! So you can definitely achieve anything you set your mind to. We set up our press in our living room and that's where the magic happens.
Are you like me? Struggling to make it all work, and slightly addicted to Pinterest? Have big plans for all your DIY projects or recipes to try, you'll get to…someday? Save yourself valuable time, come see and share the trials & triumphs of motherhood.


Also get access to the SFM resource library (printables – calendar, menus, kids book and more)
How We make it work!
We do have quite a good system down and have made some pretty cool designs and have done work for some small company work shirts.
Learning the process of screen printing, took a little time! But, once we worked out all the kinks, we were good to go!
I am good at getting our screens prepped. This means, I take off old ink with the emulsion remover. Then I degrease the screens and remove any ink stains. Once, the screen is dry, I will emulsion it, set out to dry, must be in a dark room. Then it's ready for my husband to take over!
He will do the designing, and burn the design into the screen. He then at nighttime will go in the front yard and rinse the design out. The emulsion hardens in light, so we use the dark to our advantage.
When the screen is ready to go, we will set up the press in our living room, get our the ink and start the screen printing! He will do the ink part, and I take the shirt and put them in the oven for the ink to cure.
This is really a team work effort, and it's something done overnight because it take a few days to get the screens ready for printing! But, it's fine and exciting to see our designs come to life!
Entertaining my littles
Since, it usually takes, both my husband and I to do our screen printing, we need to find something to entertain our toddler and baby. Our toddler has a playroom/our bedroom that has a baby gate. We can see him really nicely from the living room.
While, he is playing in his room, we can usually get a lot done. He has lots of fun interactive toys that he will go play with. Some of these toys include, legos, blocks, puzzles, and his baby doll.
My daughter on the other hand isn't very mobile yet, so she can play on her mat, in her bouncer, or she likes to sit in her bumbo seat! We are very lucky, that our children are learning how to self play! These toys have definitely helped with that!
You May Also Like