The Best Kid's Table with So Much Versatility 
Is it time to upgrade and get a "big kid's" table?
My son was outgrowing his high chair. He was at the age where he could sit in a chair and keep his attention. I decided it was time to buy him his own table. Well, as things go with kids, they always outgrow stuff so quick. So, I didn't want to get stuck buying a table he would only use for a short amount of time. This led us to find the best kid's table.
Trying to keep up financially with all the latest kid's gadgets, toys, clothes, and everything else kids and toddlers need, really starts to add up. It's also very overwhelming deciding what to buy a lot of the time. Is is going to last? Will it do everything it boasts about in the description? Is it good quality?
I tend to ask myself these questions a lot when making a purchase for my kids. I want to make sure that the money I am spending doesn't go to waste. So, I set out to find a fun, versatile, and resistant table that would grow with my kids.
It's so important to have a list of baby supplies! Start your baby registry ASAP!
Simple. Convenient. All in One Place.
Progression and Growth
My son was growing up so fast. All those fun activities that I couldn't wait to do with him out of fear he would just eat it or throw it on the ground was over, mostly. He was at the age now where he could do fun activities. Things like playdough, sensory play, water play, lego stacking, artwork, and more. I needed to create a fun and safe place for him to be able to do all these things.
I was determined to make this easy on myself so all these activities would be one, easy to set up. Two, easy to clean up, and three, somewhat contained. In order to check all these boxes, I set out to search for the perfect table.
The Best Kid's Table
When I found this table, I was a little skeptical at first because it was plastic. I wasn't sure how long it would hold up. It also had a lego grid, and I wasn't sure how durable it would be or if it would actually fit the legos appropriately. I was intrigued with all the possibilities, so I bought this table.
I was so glad that I did! So far, we have had this table for almost a year. My son uses it everyday and we love it. It's so lightweight but just heavy enough at the same time. The chair fit him perfectly and they are durable. I mean I can fit my large butt into them, so we're good there!
Here are some of the many things we use this kid's table for:
-Sensory Play
-Water Play
-Eating Meals
-Doing Arts and Crafts
-Lego Play
-"Wash Dishes"
-Playdough and Slime Play
Sensory Play
This was a fun activity for my son. I made him a rice bin with all kinds of different toys. In it I put a slotted spoon so he can search and find all the "treasures". I tried this activity out without the use of the table and it was a huge mess.
I was able to avoid that with the use of this table. I just took off the lid and placed the rice bin inside. As he threw and searched through the rice, it stayed mostly contained inside the table. When he was done playing, all I had to do was tip the table up and dump it back into the bin. Super easy and quick clean up, even more so when used outside.
He learned many skills from this simple activity. Skills like fine motor capabilities that facilitated explorations and naturally encouraged him to use scientific processes while he played. He also learned problem-solving skills with searching and finding all the "treasures".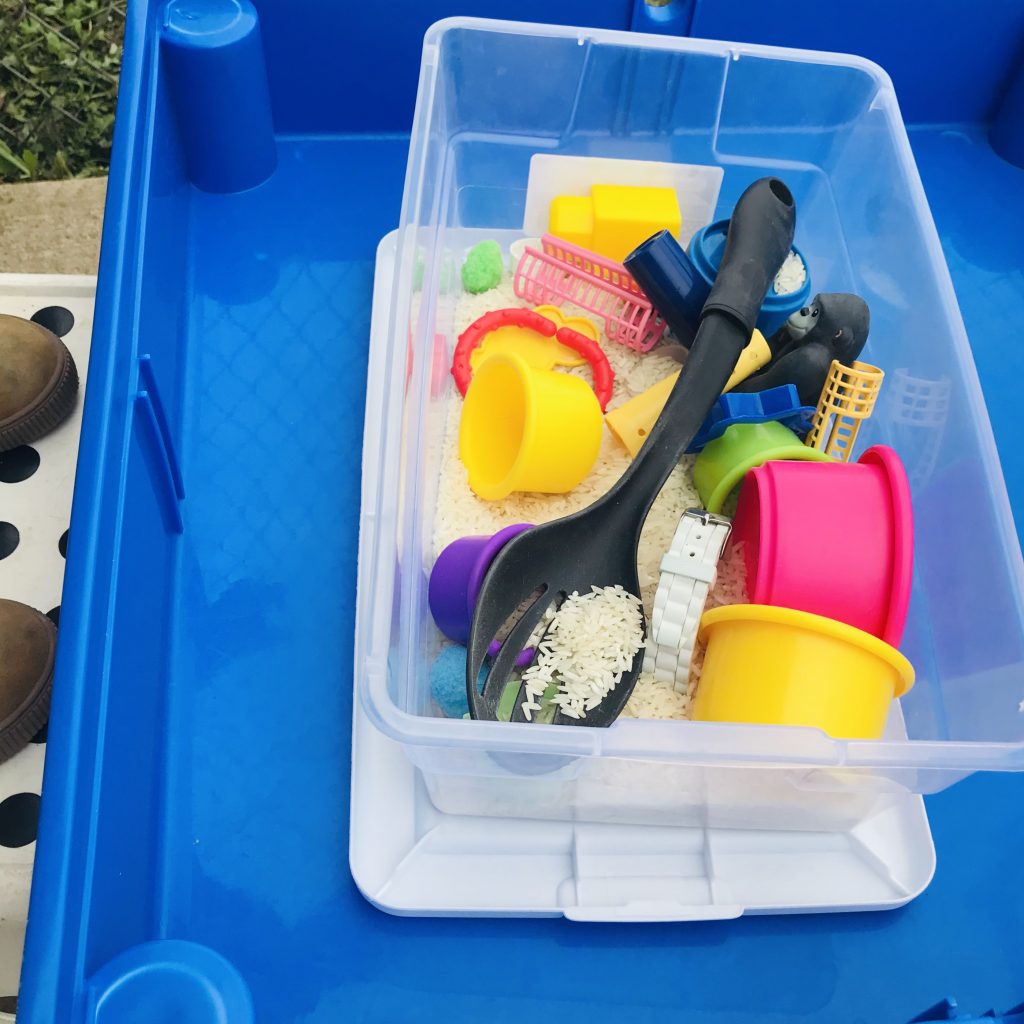 The other sensory activity we did was set up a hot wheels ramp! This was so much fun. We put the hot wheels tracks on the couch and the other side of the track on the table. It created a fun bridge and he loved to use his skills to move and slide the hot wheels from the couch to the table.
Water Play
My son loves to play with water. It is sometimes hard to set up a good environment for him to be able to get the most out of his water play time. Well, this table is great for that. It comes with a sturdy plug so you can fill the table with water.
I would just take his table outside and use the hose or sometimes a few buckets depending on how much water I felt like using that day. You don't really need a whole lot to make it fun. Then I would fill the table with his toys. He is obsessed with baby shark and all things ocean. So he liked to "fish". You can make this a great learning activity by asking, "Can you find the green fish? How many fish are there?". Or you can use numbers or alphabet letters too!
It's great that the table is perfect height for him. He is easily able to walk around the whole table while he plays in a nice comfortable position. The water stays contained, for the most part. I mean he is two so sometimes a tidal wave comes out of nowhere.
When he is done playing, I can either put the lid on so he can play with it later, say after nap. Or I can use the water to pour on my garden. I love the learning that takes place with this simple activity as well. The water play encourages hand-eye coordination through pouring, stirring, scooping, and grabbing. This strengthens his gross motor skills.
Check out my summer water play post for more inspiration!
Eating Meals
My son is 2, so he still sits in his high chair at the dinner table. But, for snack time, breakfast, and lunch he will sit at his table to eat. It is so easy and convenient. The only thing that I don't really like is there is a space between the lid and the table's edge. It's a very small space, but he still sometimes gets food in there. But it's still super easy to clean. This kid's table is the perfect size for him and it he still has some room to grow.
Doing Arts and Crafts
I was so excited for my son to be old enough to do arts and crafts. We use this table a lot to color pictures, paint, make lots of DIY crafts, and practice using scissors. If you want to store things inside the table, you can do that too. It's also easy material to clean as he misses the paper and paints, colors, or glues the table. I love that I can also sit in the chair and when my daughter gets old enough, I can still reach the table perfectly from sitting on the floor.
I absolutely love Amazon Prime for all of my shopping, it's so easy and free delivery is the best! Especially with the amount of shopping I do! So many great perks!
>Instantly watch thousands of movies and TV episodes
> Borrow Kindle books
>Get unlimited FREE two-day shipping (no minimum order size)
Start Your FREE Trial!
Lego Play
One of the reasons I really liked this table was the ability to use the lego grid. My son loved to stack and play with his legos. I hated always having to be on the floor with the legos everywhere. Especially trying to step over all the legos and maneuver around each piece as to not impale my foot.
To my surprise, the lego grid fits the standard size legos perfectly. My son can put the legos on and take them off. He can stack them up and knock them down. It's the perfect and contained area for lego play. He gets so many great benefits from lego play. Things like being able to express his creative side, fine motor skills, language skills, lateral thinking, and planning skills. He gets to feel accomplished as he builds up his lego city.
Washing Dishes
This is one of my favorite activities! My son loves to help me and watch me. Well, I don't always let him help with everything I do for the fear of making a bigger mess, for safety, and accessibility reasons. My son always wants to help me wash the dishes, and he loves to fill up containers with water, pour them out, and pour them into a different container.
So, I took some dish soap and water and set up a fun, safe, and contained environment for him to "wash dishes". He gets to learn real life skills here. I was surprised at how long this simple activity kept him entertained for. The joy on his face as he used the soapy sponge to clean off all of his dishes. He did it over and over again. I think the bubbles it made were the best part!
This activity was super easy to clean up too. Just rinse off the table and let dry! Plus, it gives it a good cleaning at the same time. Mom win!
Play-dough and Slime Play
My son is now old enough to play with play-dough and not eat it. This table sets up the perfect safe and contained environment to play with play-dough or slime. We have done both and they've worked out great! Sometimes the play-dough would roll off the edge. But, you can take off the lid and use the inside of the table as well. It's much cleaner that way.
The Best Kid's Table
I was so glad to have made this purchase. It came in a nice box and easily assembled. The table has held up really well so far. My son loves it so much and I love it too.
It really does make my life so much easier with all these awesome learning and creative activities we can do. We definitely got our money's worth!
Check out the table here! See for yourself!
Share the love! Pin me!