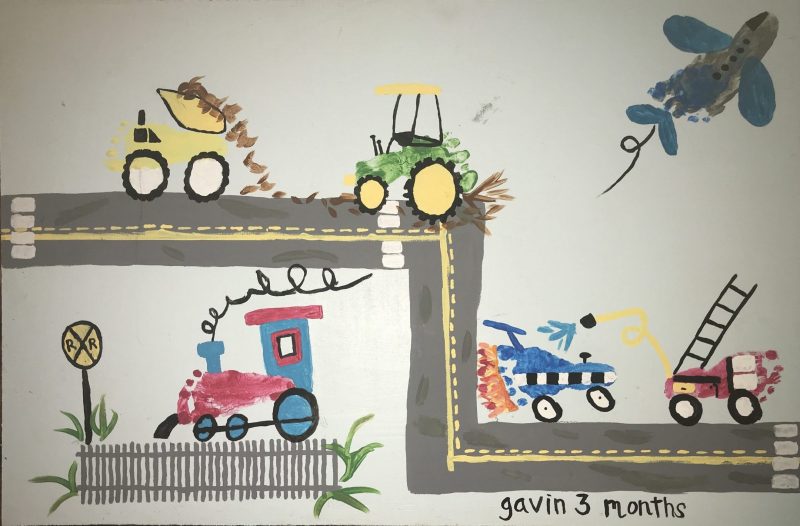 Inexpensive Transportation Art For Your Kids Room
My family is big into the outdoors, going to the desert, and camping. This is why I loved the idea of the transportation kids art for my sons room. I am keeping my jungle theme nursery for my next baby! My son however, when he gets his own room someday will be full of things that go! I wanted to share a couple pieces of decor that I made for his room!
Incorporating Their Name
I really liked the idea of using the letter of his name to make a fun themed road to hang up! So, I bought the letter at my local Micheal's store and painted it gray with acrylic paint. Then, I again used pencil and a stencil to outline the road and then painted over it. Once, I was satisfied with the placement. I found the little cars at a baby resale place for 50 cents and hot glued them to the board! This is a great transportation kids art idea, it ties in great to the theme, is easy, and inexpensive!
Are you like me? Struggling to make it all work, and slightly addicted to Pinterest? Have big plans for all your DIY projects or recipes to try, you'll get to…someday? Save yourself valuable time, come see and share the trials & triumphs of motherhood.


Also get access to the SFM resource library (printables – calendar, menus, kids book and more)
Incorporating his Footprint!
This one was fun to do and a little hard at the same time, because I had to work with a wiggling 3 month old that was very ticklish on his feet! So, I used a wood board from Home Depot about 24in by 16in and painted it with acrylic. Then, I used pencil to outline my road first and then painted my sons feet and placed them on the board. I did all of the foot prints one after the other so that while my son napped I could finish the rest of the details!
Name on the Door is a Must!
Having his name on his door ties in the whole theme, so nicely! So I used white construction paper and used a pencil to design the letters of his name to fit with the transportation theme. I used a marker to outline the pencil and then I used an eraser to get rid of any left over pencil lines. Once, that was done I filled it in with colored pencil and laminated the finished product! Don't forget the lamination paper!
All in all, this was a great way to make inexpensive transportation kids art for my kids room! It all cost me about $20! So that is what I call a mom win! This was also pretty simple to create and only took a few days for all these great transportation art pieces!
Interested in making a little side cash for you and your family? It's simple! Just share an experience of yours and we will split the profits from any affiliate link income we generate from your blog post. But don't stall, spots are limited!
Don't know what an affiliate link is or what a blog post entails? I've got you covered! Click here to get started making some side cash!

You May Also Like