I am absolutely a sucker for ice cream cake. It's just so good. Well, with my recent diet change of cutting out sugar and bread, it's a little difficult to eat ice cream or cake or both! So I decided to put a twist on this recipe and make a keto ice cream cake! I am glad I did! This cake turned out so tasty!
Every year when someone in my family has a birthday, I like to bake an ice cream cake. This year my son's 2nd birthday was fast approaching, so I decided to give this cake a go! Read about ideas for a 2 year olds birthday here. The cake is a yellow cake with cookies and cream ice cream, and a chocolate buttercream frosting! Yummy!
Keto Ice Cream Cake
My son loved this cake! It was actually fairly easy to make. I was able to use only two mixing bowls. One for the wet ingredients, and one for the dry. Then you just throw it in the oven and bake it like you would a normal cake.
When baking with keto, use caution with your ingredients. The sweeteners make all the difference. I have tried lots of different sweeteners and I am obsessed with the sweet flavor of the Swerve. I HIGHLY, recommend this type of sweetener.
It can be a little pricy, but it is so worth it! Plus, in a lot of keto recipes, you don't need to use a whole bunch. But, with the amount of baking I love to do, mine is always running out! I like to buy the big bags, you get a little more bang for you buck in my opinion.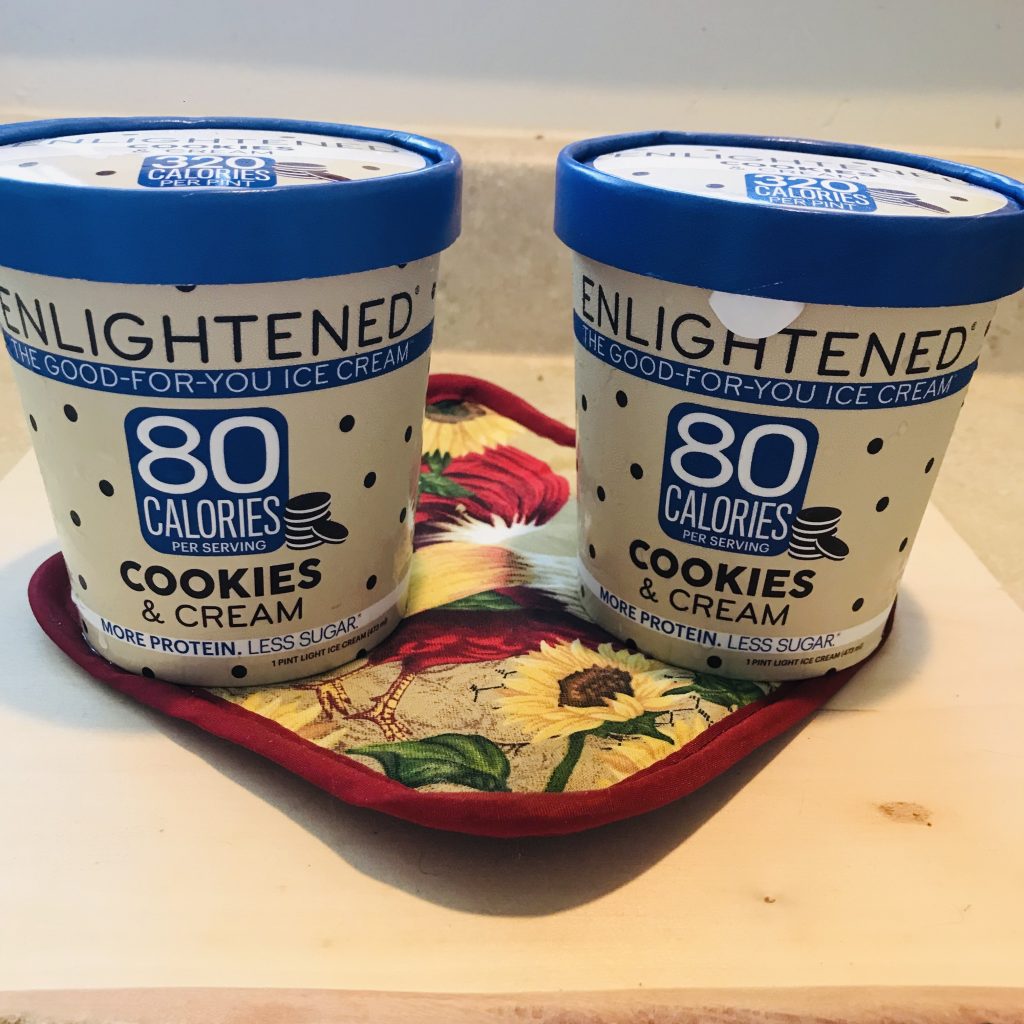 Get your swerve here! You won't regret it!
Another thing to consider with baking on keto, is the flours. I have found that coconut flour makes things kind of dry sometimes, so you have to get your ratios just right. Almond flour is a little easier to work with especially if your just starting out.
It has amazed me how much my taste buds have changed just by cutting out sugar. When I do eat something with full sugar in it, man it's super sweet! I love these great keto dessert recipes! They have the perfect sweetness for me.
The Recipe
This recipe is actually pretty simple to make. If you have the basic baking skills, you can create this masterpiece! You will even feel good about eating your dessert because it won't pack on the extra pounds!
I like to use my glass mixing bowls, and my hand mixer for a lot of these recipes. It just makes it easy to do and easy to clean. The hand mixer stores easily as well. For this particular recipe, I used a 9×13 in pan so I could get three layers of my cake. Two cake layers and one ice cream layer.
I only have one pan so the day before I bake my cake, I melt and mold my ice cream to the pan and refreeze. Once frozen to shape, I will put in a zip lock so it doesn't get freezer burn.
Then, I just make my cake mix and bake. While that is baking, I like to prepare my frosting. I use piping bags for easy frosting. These are the ones I like to use. Click here.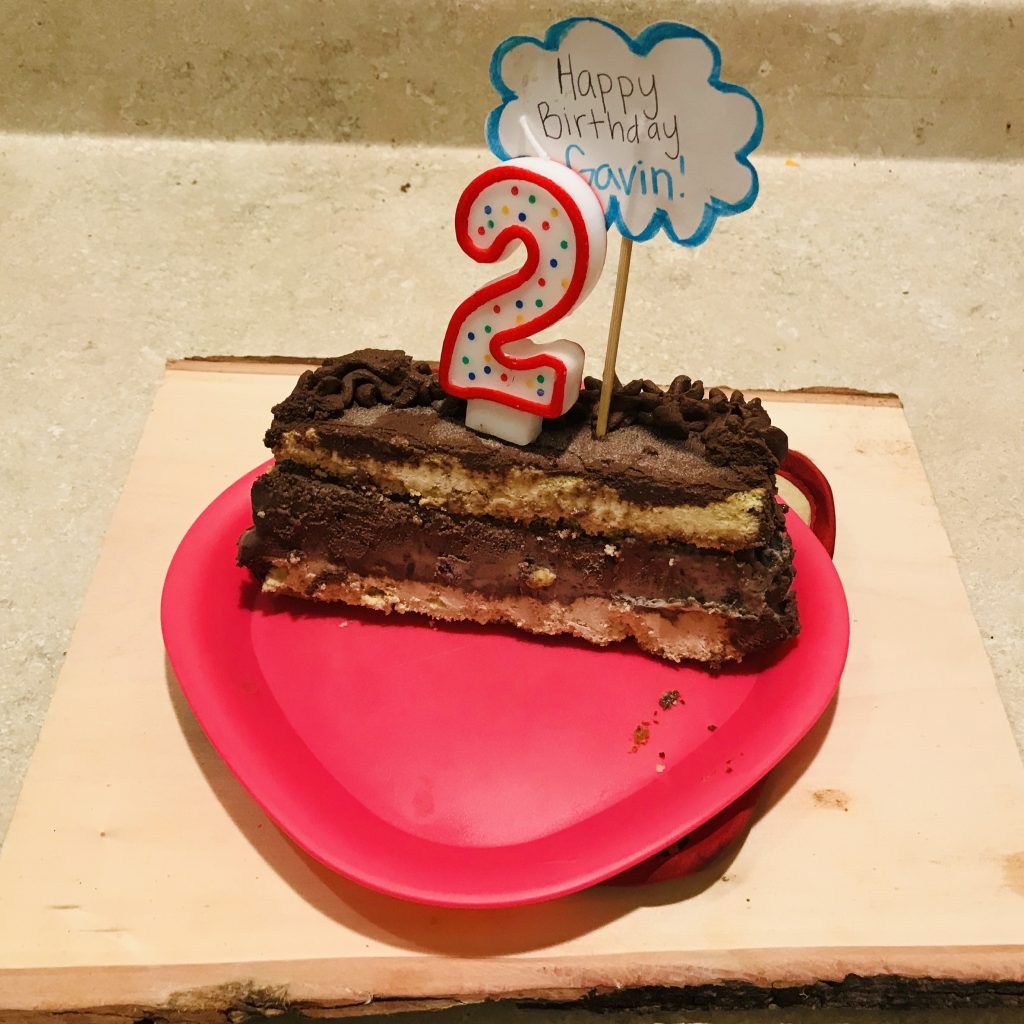 Carb Count
This cake with the ingredients I used, is about 64 grams total. The ice cream is the largest part of carbs. For the 2 pints of ice cream that adds about 40g. If you cut the cake into 8-10 slices, it averages it out to 8-6g per slice. That is pretty dang good! Without the ice cream it's about 3 grams per slice.
This cake recipe is also pretty versatile. You can make cupcakes, or cake, or even make an ice cream cake! Yum! I hope you enjoy this recipe!
If you are interested in learning more about my low carb journey, check out this post. Click Here.
Amazon Fresh is so easy and convenient! Save yourself some valuable time. Eat fresh, whole ingredients, that ships right to your door! We have it made!
You have to try the FREE Trial! Trust me!
Keto Ice Cream Cake
Delicious ice cream cake that will knock your socks off!
Ingredients
Yellow Cake
1/2

Cup

Butter, melted

Kerigold is best

2/3

Cup

Swerve Sweetener

2

Tsp

Vanilla Extract

2

Tbsp

Heavy Cream

can add another tbsp if batter is thick

1/4

Tsp

Salt

1

Tsp

Baking Soda

1/2

Tsp

Xantham Gum

1/3

Cup

Coconut Flour

1/3

Cup

Almond Flour
Chocolate Buttercream Frosting
1

Cup

Butter, softened

1

Cup

Powdered Sugar

2/3

Cup

Unsweetened Cocoa Powder

1/4

Cup

Unsweetened Almond Milk

2

Tsp

Vanilla Extract
Ice Cream
2

Pints

Cookies and Cream

Enlightened Brand
Instructions
I absolutely love Amazon Prime for all of my shopping, it's so easy and free delivery is the best! Especially with the amount of shopping I do! So many great perks!
>Instantly watch thousands of movies and TV episodes
> Borrow Kindle books
>Get unlimited FREE two-day shipping (no minimum order size)
Start Your FREE Trial!