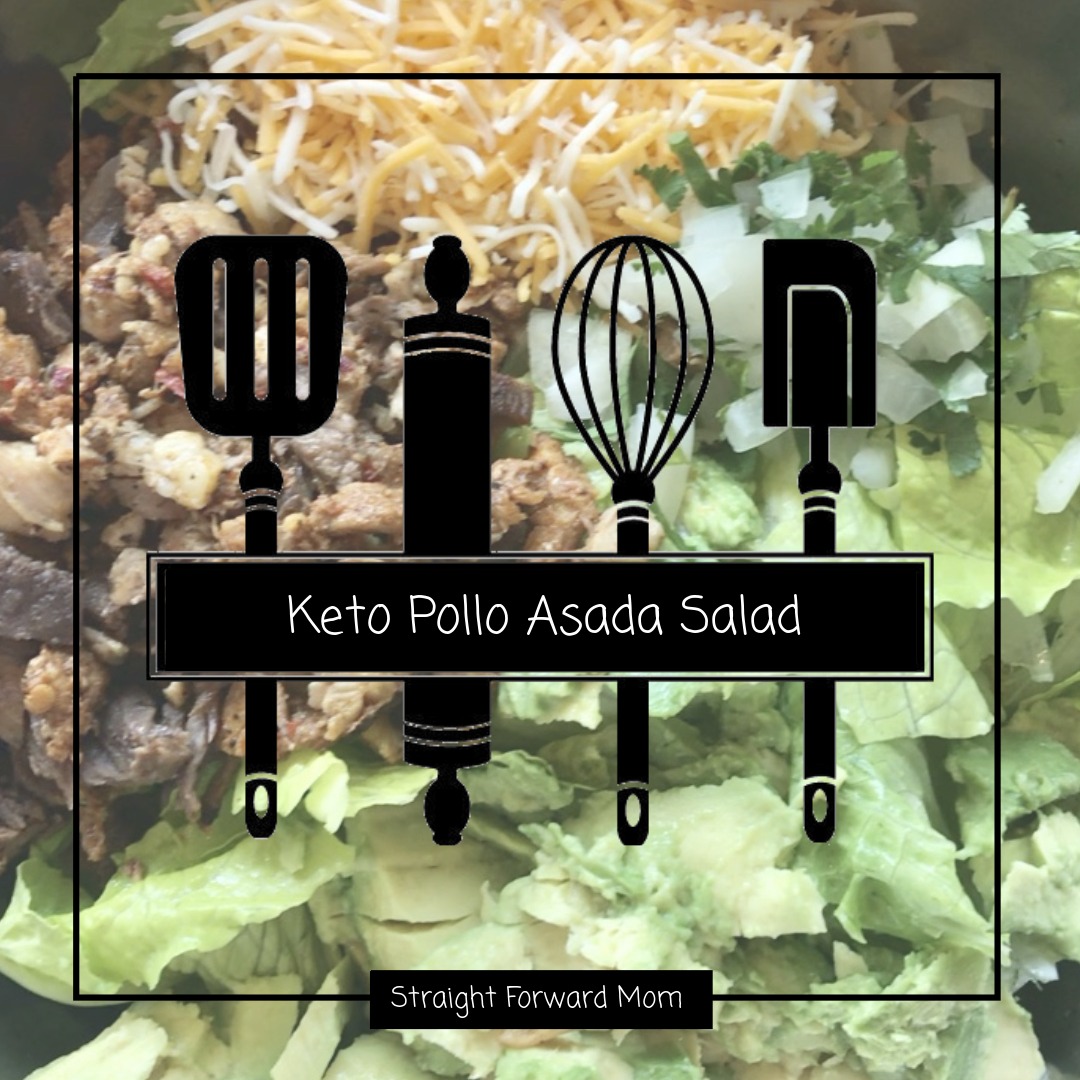 As much as I LOVE tortillas, eating a low carb or Keto diet, you can't really eat tortillas. Unless you make them homemade. Well, if you don't have time to always do that, then this keto pollo Asada salad recipe is a great alternative! Yes, it's not as good as tacos. But it does tastes good, is easy to make, and is good for you to eat!
Keto Pollo Asada Salad
This is one of those recipes, that I love to simplify for myself. There are a few ways I do this! One, I use my oven to cook my meat, this allows me to be able to prep the rest of the salad very easily while the meat is cooking. I do like to cover the meat, while it's baking so it doesn't get dried out. While it's cooking, I wash and cut my lettuce, make my dressing, cut the onion, avocado, and add my cheese to a big bowl! That way when the meat is done, I can just cut it up and toss it in the salad!
Since, we do a lot of our shopping at Costco, the package of pollo asada usually lasts us for 2 meals. This way I have extra meat to make another dinner or lunch with! I love being able to double up on my grocery list and use one item for multiple meals! This is how I save money, and don't waste food!
I hope you enjoy this recipe as much as my family does! My 2 year old loves to eat salad, which I think is awesome! He is at that stage where he copies what his parents do, so it's great that he can just eat all the same meals we eat! This makes it super easy to cook because, I don't have to worry about making something extra just for him, although sometimes depending on the meal I might!
This is a very versatile recipe! You can use any lettuce, spinach, or combination that you have on hand. You can also use just regular chicken and add your own spices, this is especially helpful when you buy meat in bulk or if there is just one or two people eating. That way you can have chicken one night and then a spicier version in a salad another night!
Amazon Fresh is so easy and convenient! Save yourself some valuable time. Eat fresh, whole ingredients, that ships right to your door! We have it made!
You have to try the FREE Trial! Trust me!
Pollo Asada Salad
Super simple, delicious dinner that your family will love! My 2 year old loves salad!
Ingredients
1

Package

Pollo Asada

2

Bundles

Romaine Lettuce

1/2

Cup

Shredded Cheese

1-2

Avocados

1

Onion

1/4

Cup

Taco seasoning

1/2-1

Cup

Sour Cream

Cilantro

Optional
I absolutely love Amazon Prime for all of my shopping, it's so easy and free delivery is the best! Especially with the amount of shopping I do! So many great perks!
>Instantly watch thousands of movies and TV episodes
> Borrow Kindle books
>Get unlimited FREE two-day shipping (no minimum order size)
Start Your FREE Trial!