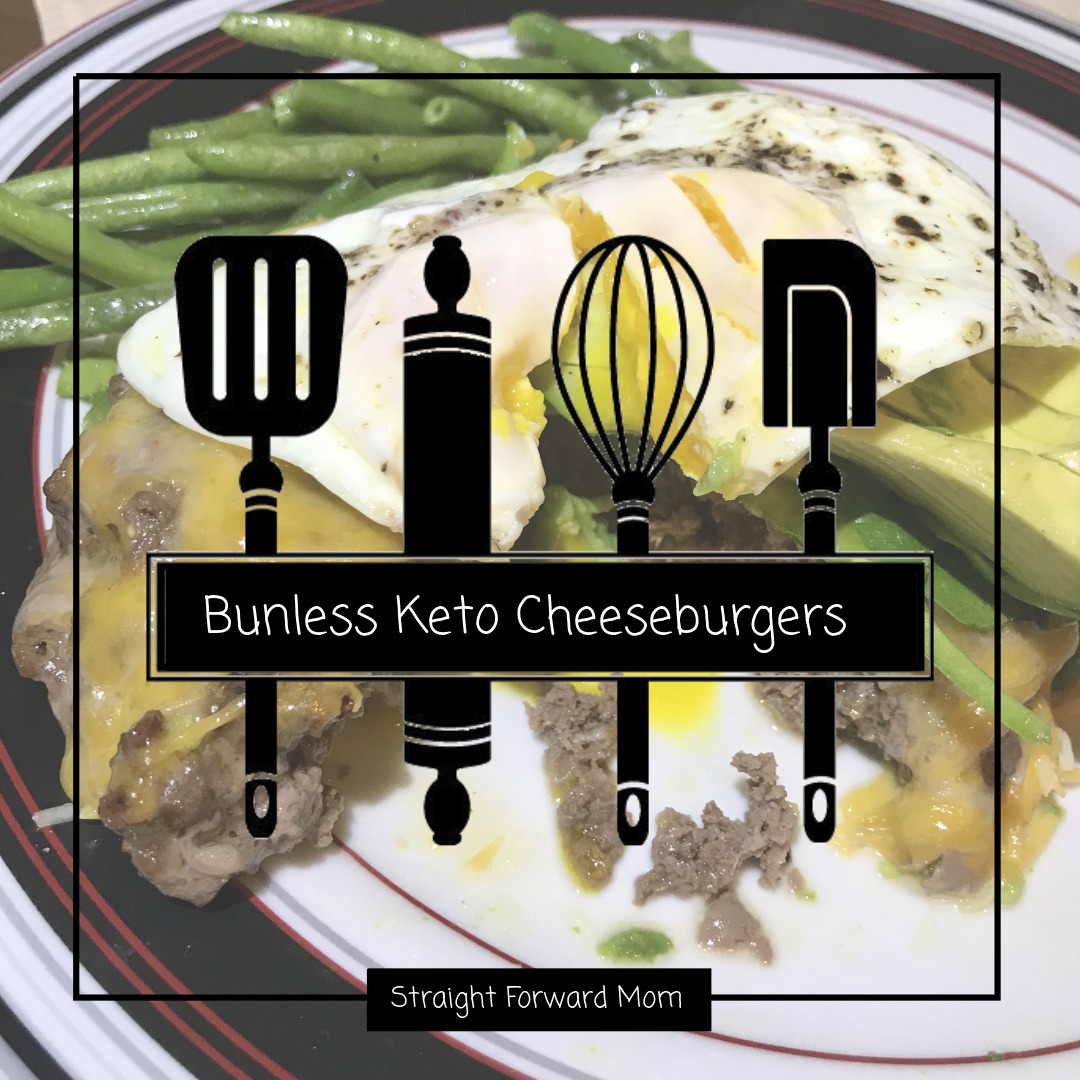 You won't miss the bun with this keto cheeseburger!
This is a great take on your traditional cheeseburger recipe, without the bun of course! 😉 I love this keto cheeseburger recipe, so much, that we like to make this recipe about once a week, it's too good to pass up! But if your not doing low carb or Keto, you can still make this recipe, by adding a bun to your burgers, and a side of fries, or tots!
The Keto Cheeseburger Meat
It is helpful when you are eating a low carb or Keto diet to buy good quality meat. We like to buy ours from Costco. We typically buy our beef in bulk. What I like to do is get my handy kitchen scale out and grab my saran wrap, then I pull a piece of the wrap over the scale.
I then, zero out my scale and put my meat on top of the wrap. I measure out in 13oz-1 pound increments and fold up the meat in the saran wrap. Once, I have done this to the whole package of meat, I put the individual wrapped pieces into a large zip lock bag and freeze!
The meat will typically last us a month. Now, I have a bunch of ground beef to use and incorporate into a bunch of different recipes! The meat quality really does make a difference in these keto cheeseburgers!
Season the keto cheeseburger meat!
This keto cheeseburger recipe tastes so delicious, and it makes for a great quick meal! I like to bake my meat in the oven with different seasonings, typically go for a taco seasoning or mesquite seasoning in the meat.
I like to cover the tray, as well when I bake, so that the burgers don't get dried out. When they are close to being done I add my cooked bacon and cheese, then it goes back in the oven for a few minutes. While that is happening I fried up some eggs real quick so they are just going straight from the pan to the top of the burger!
I love to use my oven, when I cook a lot of these meals, because it allows me to prep the rest of the meal. For example, with this burger recipe, while my meat is baking, I can cut my avocado, break up my bacon, and get the plates ready. You can also add some onion, lettuce, or tomato for some extra great flavor. If I have these things on hand I add them, but usually I just like to work with what I have left.
Prep ahead of time!
Another thing that I like to do, that is extremely helpful is cook all my bacon at one time. On the weekends if I make eggs and bacon for breakfast, I will cook the whole pack so we have extra bacon to use throughout the week. The packaged pre-cooked bacon does not nearly taste as good as fresh cooked! When you freshly cook your bacon, it tastes good reheated and will stay nice and crispy!
So this keto cheeseburger recipe, because of the steps I take to prep some of my toppings and sides, makes it super simple! You just have to toss your meat in the oven, I like to put my vegetables in the oven too, they typically take the same amount of time.
But, there are a lot of different ways you can cook your vegetables. I think it just depends on the vegetable, and if you want it to be soft or crunchy. Since, we eat vegetables with practically every dinner meal, I will switch it up in my cooking preference.
For the sake of these keto cheeseburgers, I used green beans. These I buy in bulk and frozen. I like to cook them with butter, salt, and pepper and put them in the oven at 400 F for about 15-20 minutes! This gives them the perfect texture for me with a slight crunch but still soft! Which is great for my 2 year old because raw or hard vegetables can be a little challenging for him to eat sometimes. I hope you enjoy this awesome recipe!
Amazon Fresh is so easy and convenient! Save yourself some valuable time. Eat fresh, whole ingredients, that ships right to your door! We have it made!
You have to try the FREE Trial! Trust me!
Simple Keto Cheeseburgers
Delicious burgers, that you can feel good about eating, and can hardly tell the bun is missing! 😉
Ingredients
1

lb

Ground Beef

2

TBSP

Worceshire Sauce

2

TBSP

Mesquite Seasoning
Toppings
2

Slices

Cheese

Or Shredded Cheese

2

Pieces

Bacon

1

Acocado

2-3 Eggs

Eggs

Mustard

Sour Cream
Side
2

Cups

Green beans

2

TBSP

Butter

Kerigold is the best

Salt

Pepper
Check out some more great recipes!
I absolutely love Amazon Prime for all of my shopping, it's so easy and free delivery is the best! Especially with the amount of shopping I do! So many great perks!
>Instantly watch thousands of movies and TV episodes
> Borrow Kindle books
>Get unlimited FREE two-day shipping (no minimum order size)
Start Your FREE Trial!